Are you stuck in the Internet Marketing and Social Media Maze?
Are you overwhelmed or frustrated with Marketing Your Business Online after providing your services all day?
Are you too busy working IN your business and not working ON your business?
As Your Social, Mobile and Web Coach, Kathy takes the Geek and Greek out of Technology with a step-by-step process that makes it simple, easy and really effective!
Entrepreneurs and Small Business Owners tap into the Power of Internet Marketing, Social Media and Mobile Apps: to stay competitive and grow your business.
Today Internet Marketing and Social Media is a 'Must Have' marketing strategy, it's no longer a 'Nice to Have' strategy. Two main reasons why – Your Competitors are doing it and Your Customers are using it.
Kathy answers questions and shares information on Social Media Marketing as a Guest Expert at TWBA Business Workshop:
Kathy's Step by Step Hub Socializer Coaching System helps make Marketing Online and Social Media Marketing Easy!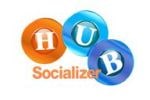 Her Hub Socializer coaching system saves clients time, energy and money, without any fear of getting left behind or stuck in the online marketing and social media maze.
Kathy has a free ebook available for download at 52SocialMediaTips.com.
Kathy is a co-author with Best Selling Authors, Deepak Chopra, Jack Canfield and Dr. Denis Waitley in Stepping Stones to Success. The book is listed and available for purchase on this website at Stepping Stones to Success.
In her latest book, The Speaker Anthology, she discusses how to brand yourself in order to more effectively sell your services. She also explains how, in today's economy, it is absolutely necessary to use social media when marketing any type of business.
Kathy inspires her audiences and clients with her down-to-earth approach in dealing with everyday challenges and issues, from Online Marketing to Self-Empowerment tools for success. She has a talent for sharing stories and life experiences to make complex information bite-sized and understandable.
Kathy is a leader in the Personal Growth Industry and is a Certified Access Consciousness Bars Facilitator. She was a keynote speaker at the 2011 Creating My Intentions Conference in Tampa, Florida and workshop leader at the Tampa Miracle of Love Conference in 2010. Kathy founded a social networking site for Women at iWomanLife.com and is also part of the Wolf Omega Team – a woman's advocacy group advising on how to market more effectively to women.
Kathy's corporate office is located in Tampa Bay, Florida.